Another new release. 😉
Ryan's Secret Lovers has a little bit of everything, including some non-con/dub-con sex scenes. There's no actual violence, but these scenes wouldn't exactly be considered 100% consensual if circumstances were different. I can't say more about that aspect of the story without giving too much away.
There's sex between some specific couples that will no doubt bother some. There are warnings in the blurb and inside the book for a reason. Take note of them before downloading something that my offend or trigger you. If you want a full list of what they are, shoot me a message at KelsyKasey@gmail.com or via any of my social media accounts.
Ryan's Secret Lovers is not a romance, though one of the couples do actually get together later, explained a little more in the epilogue.
There's also a bonus story that takes place between the end of the last chapter (Chapter 13) and the EPILOGUE. This short story is nothing but one long incestuous sex scene between a father and son, though the link with access to it is in the book after the EPILOGUE. Don't read it if that's not your thing. Seriously. Don't.
You can find Ryan's Secret Lovers on Amazon, in Kindle Unlimited for those who subscribe.
Kels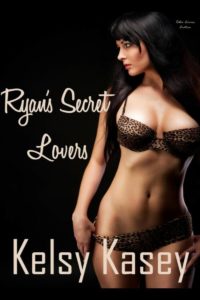 Blurb –
A virgin at eighteen, I thought I was the luckiest guy on the planet when somebody started sneaking into my bedroom in the dead of night and giving me some naughty attention. I played the game, pretending to be asleep until the one night I couldn't. Even then, I was blindfolded and given pleasure unlike anything I'd ever imagined.
I later learned that my secret lover was not only not who I thought it was, but it was somebody who never should've been touching me, much less doing more. But what could I do? I was a horny teenager who got hard if the wind blew. What I didn't know was that my body was being used for something I never would have agreed to had I been thinking with my other head. Only after I inadvertently crawled into the bed of the wrong girl did I learn the truth. Things took an even stranger turn when somebody else got in on the naked action, somebody more forbidden than the others. It wasn't meant to happen, but after a night of partying with my dad, there was no way I was going to say no – not when it was feeling so good. 
Follow Ryan's journey as he has a sexual awakening unlike any other. While his partners would never be considered conventional or even accepted by most, there's a lot of pleasure given and received by all.
Ryan's Secret Lovers is not for everybody. Ryan hooks up with both males and females that might make some readers uncomfortable. Some of the sexual situations could possibly trigger or offend some readers. If any type of taboo situation isn't quite your shot of Tequila, I highly recommend taking a pass on this story.