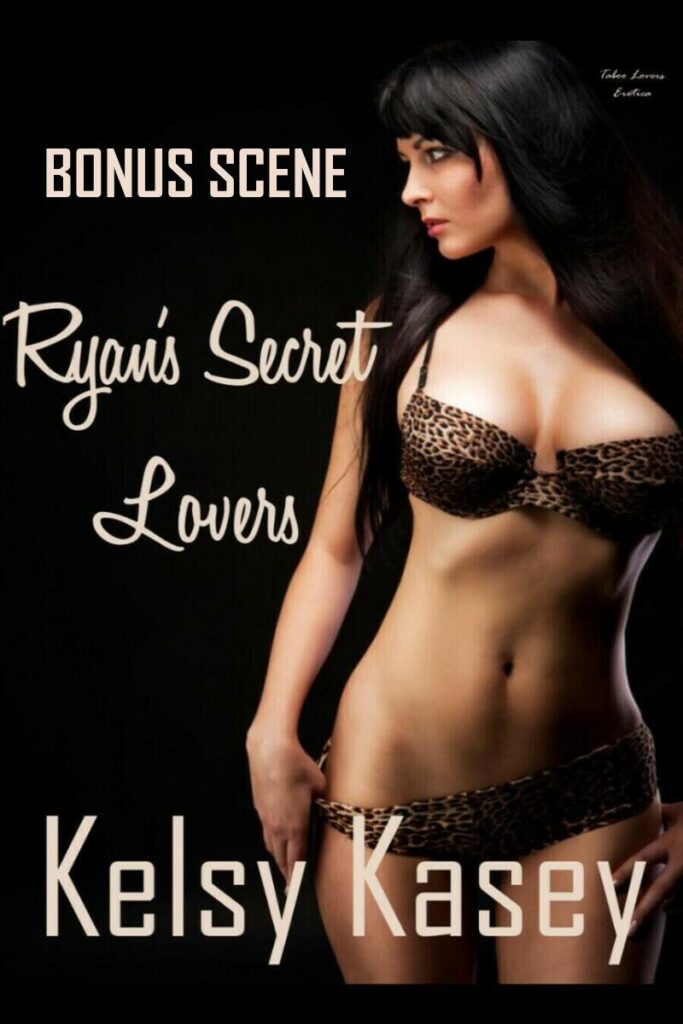 Part of the
Ryan's Secret Lovers
series:
Ryan's Secret Lovers (Taboo Lovers Erotica) - Bonus (Incest) NSFW Scene
Part of the
Taboo Lovers Erotica
series:
Ryan's Secret Lovers (Taboo Lovers Erotica) - Bonus (Incest) NSFW Scene
This is a bonus scene from Ryan's Secret Lovers describing Ryan's first time having sex with a man when he was eighteen. It's a full-on incestuous sex scene. There's no step anything here, and the sexual partners are closely blood related. If this offends you, stop reading and thank you for reading Ryan's story. If you're into that kind of kink (Come on! You know you are if you've read the book this far, my fellow perverts), read on.
This scene takes place between THE END and the EPILOGUE.
Excerpt:
"Dad," I whined when I walked into his home office and plopped down in a chair in front of his desk. "I'm dying."
He looked at me over the document he was reading and laughed. "You're not dying, son. I'm pretty sure your dick won't fall off if it goes without sex for a while."
"A while?" I came back at him. "It's been forever and my hand isn't doing it anymore. You yourself said a few weeks ago that once a guy does it he wants it all the time."
READ MORE
He put his document down and leaned back in his chair. "It's been only two weeks, Ryan. We can't risk being seen in the clubs right now with everything going on with your mother."
"She's not my damn mother."
"Okay, with everything going on with Rebecca. She's already fighting me on everything, thinking I won't follow through on reporting her. Can you imagine what she would do if she could prove I took my underage son to a strip club and bar?"
"She knew you took me to the strip club that night, Dad."
"That was different. Your being there was part of her plan, remember?"
"I'm going crazy. Since all the crap with Clay, I can't even see Abby."
"You really like the girl, huh?" he asked with a smile. Dad always liked Leah's best friend.
"I love her, and before you go on about how I'm too young to be in love with somebody, I'll just say this… I'm going to marry that girl someday. Mark my words."
"You know, I believe you will. Honestly, I hope you do. She's already part of the family. She's always seemed pretty smitten with you, even when she was pretending not to be while she was dating that loser."
I snorted. "Smitten? Old man, you're telling your age."
He rolled his eyes. "What do you suggest I do, Ry? I can't take you anywhere to pick up a girl, and I damn sure can't hire one to come here. Your mot- uh, Rebecca would find out."
"How?"
"Ryan, you know we brought others into our bed. Sometimes we hired them to come here when you and Leah weren't around, so she has the connections," he said with a shrug. "She'd be all over that and telling people I was hiring hookers for you."
I sat up straighter in my chair and gave him a look. "What about guys?"
"What about them?"
"I think we've already established that I'm at least bi-curious."
"You will not have your first time with a guy be a rent boy. First time with a girl, sure. Not a guy, especially if he's going to fuck you and not the other way around. It takes a lot of trust for that. You could get hurt and I'm not going to sit back and allow it to happen."
"What if you were there, Dad?" I asked, the thought making my neglected dick take notice.
"No."
"No? Just like that?"
"Just like that."
"Why? After what happened that night..." I left the sentence hanging.
"Which is exactly why it won't be repeated. I took advantage of you when you were drunk. I've regretted it since."
I opened my arms wide. "I'm not drunk now, Dad."
"Again, no."
"Why?" I asked again frustrated.
"Because it's wrong, son."
"You've always taught us to be open sexually and to not judge what people do behind closed doors. As long as both adults are consenting, what's the big deal? It's not like anybody other than us has to know about it."
"They will if I hire a rent boy."
"Then don't hire a rent boy," I said with a shrug. "It's just sex, Dad. Isn't that what you've always said? And don't tell me you're not in the same hard-on boat that I'm in. Unless you've been playing around with people in your office, I'm going to assume your dick's hurting as bad as mine. And with all the shit going on with the dissolution of the partnership with that woman you're trying to get un-married to, I'm going to say I'm sure you're not getting any at work. Leah's gone for the weekend and you've changed the locks and security codes so Rebecca can't walk in on us."
He looked at me for so long I was convinced he was going to say no again. Finally, after what felt like a lifetime, he nodded and stood up.
"Upstairs. Get my shower going and get in. I'll be there in a minute."
"In the shower?" I asked, eager to bolt upstairs and get the party started.
"Yes. I'm not just going to bend you over my desk and be done with it. I'm going to make it good for you and shower sex is always the hottest."
"I wouldn't know," I grumbled. "I've never had it."
"Go before I change my mind."
He didn't have to tell me twice. I was out of his office and upstairs in record time. Walking through the bedroom that he shared with her for a decade and a half was uncomfortable. A lot of her things had been boxed up but her touches were still everywhere and likely would be for some time. I personally thought Dad should just sell the house and be done with it. He refused because it had belonged to his parents and theirs before them. It was one of the many things Rebecca was trying to get in the divorce, but it belonged to Dad long before they met. Long remodeled, he made it his own. I could see another remodel soon. He'd made it clear that he wanted no reminders of her anywhere once it was all said and done.
I shook my head and kept walking until I was in the master bathroom that was bigger than most small apartments. I didn't stop to look at the opulence of it all. I stripped out of my clothes and tossed them on one of the countertops before turning on the shower and waiting for the water to warm up. When I was satisfied with the temperature, I stepped inside, eager for what was to come. Thankfully I didn't have to wait long because my naked dad was stepping inside with me a few minutes later, slapping a condom and bottle of lubricant on one of the shelves.
"Are you sure you want to do this?" he asked, looking me closely in the eye.
"Yes, I want to do this," I told him truthfully.
"Turn around and put your hands against the tiles. I'll go slow."
I did as instructed, my face turned away from the spray. I jumped when I felt his hands on my back, rubbing bath gel all over it. I felt his cock tap against my ass but he took his time rubbing my back, shoulders, and ass with the gel. When he was satisfied with my back he moved closer and his hands went around to my chest and gave it the same treatment he'd given the other side, stopping to pinch my nipples.
"You like that?" he whispered when I let out a low moan.
He didn't wait for me to respond before he was sliding his hands from my nipples down my stomach until he had my hard cock in his soapy hand.
"Fuck," I groaned.
He held it firm as he pressed his naked body against me under the shower spray, his hard shaft sliding between my ass cheeks.
"Still good?" he asked in my ear.
"Yes."
Still pressed against me, he reached over and grabbed the bottle of lube. I groaned, and not in a good way, when he let go of my cock to pour lube on that hand.
"Shh," he whispered.
His left hand went back to my dick and started stroking. It felt so good I was scared I'd cum all over the tiles before he got inside me. I jumped a little when I felt the fingers of his other hand rubbing around the bud of my asshole.
"Try not to tense up, Ry."
I forced myself to relax as he slid one lubed finger inside me and held still. When he knew I was okay, he started moving it in and out of my asshole, all the while slowly stroking my dick. He did this for a couple of minutes before easing the digit out and adding another one and pushing them both inside me. I tensed for a second then relaxed because I knew he'd take care of me.
"That's it, Ryan," he whispered in my neck, his hot breath giving me chills in the hot shower. "I'm going to loosen you up, get you ready for my dick. If at any time you want me to stop, say the word, even if I'm already inside you."
I nodded.
"Say the words, son."
"I promise if it gets to be too much, I'll ask you to stop, even if you're inside me. But for the record, I want you to get on with it already before I shoot my load all over the tiles."
"Patience, son."
He took forever fucking my asshole with his two fingers, spreading them every so often to stretch the narrow hole. About the time I was wondering what the big deal was about anal sex, he curved his fingers and touched something in my body that had me howling from the pleasure of it. He chuckled, his fingers rubbing across that part inside my body. I had to lean against the wall to keep my legs from collapsing.
"What the hell is that?" I gasped as he continued to pleasure me.
"Your sweet spot, better known as your prostate."
"Holy shit, no wonder guys like this stuff."
I felt him chuckle again as my entire body blew up into one big sensation. It was too much yet it wasn't enough.
"I'm going to add a third finger now, Ry," he said into my neck. "It's going to burn. Just try to relax and try not to tense. If you can't handle my fingers, there's no way you'll be able to handle my dick."
I nodded and waited as he eased the two fingers out and came back in with three and started slowly fucking my ass with them, again spreading them slightly to stretch my hole. As expected, I tensed at the burn. It was just uncomfortable enough for my cock to go down some in his hand. I'm not going to lie. I almost put an end to it all right there. The only thing that stopped me was knowing I'd likely not get another chance, at least not with him. I trusted, trust, my father more than anybody on the planet. I knew he'd take care of me. It was that thought that kept me going. As he moved the fingers in and out, the pain started to ease a little, leaving me with the feeling of being full. It felt more uncomfortable than anything else.
"Do you think you can handle me now, Ry?"
I nodded, not sure if I could or not.
"Words, Ryan."
"Yes, I think I can handle you now."
"Good boy."
He slowly pulled his fingers out at the same time he let go of my dick. With one hand on my hip, I felt the other one guide the head of his wet cock to the entrance of my narrow hole. I felt as he snapped his hips a little, forcing the head inside.
"Damn, fuck, ow, Dad."
"Shh, try to relax."
He kept pushing with his lower body, his dick slowly making its way inside my asshole, one thick inch at a time. Only when he was fully seated and I felt his balls pressed against my ass did I attempt to relax and stop tensing.
"Deep breaths, Ry. You're doing so well. I'm so proud of you."
He continued saying nice things and throwing out sweet compliments until my body slowly accepted him and the pain was more minimal than not.
"That's it, my sweet boy," he cooed in my ear.
I could feel him straining as he tried not to move, but I knew he wouldn't do anything until I gave him the go-ahead. I could feel him panting in my ear, obviously eager to get the show on the road already, but he never pushed.
"Move, Dad. Just go slow at first."
I still didn't even think I'd enjoy it, but we were this far in (quite literally, I might add) and I wasn't stopping until both of us came. With his hands on my hips, he moved his lower body, taking his dick in and out of my asshole in slow strokes.
"Faster. I'm okay," I assured him.
"I want you doing better than okay, Ryan."
He did start moving faster, his dick sliding almost out of me before he was pushing back in all the way. It started feeling good to me, but I started seeing stars when he changed his angle and hit the sweet spot again.
"Fuck. There," I gasped.
Staying at that angle, he somehow managed to hit that spot consistently with his dick, giving me pleasure unlike anything I'd ever experienced.
"Fuck, fuck, fuck, fuck," I said over and over. "So good."
He was groaning and grunting with each jab of his cock inside my asshole. I felt his hot breath on my neck, his fingers digging into my hips. My dick was so hard I was ready to explode. When it did happen, it happened without me or him even touching it. My orgasm hit so hard, so quick, I wasn't prepared for it. I erupted all over the shower floor, my sperm being washed away with the water of the shower. I yelled so loud I'm shocked it didn't echo off the tiles.
"That's it, Ry," he grunted as he sped up, his fingers still digging into my flesh, holding me up. "So tight, so good. Fuck!" he yelled as he jerked me hard against him. I could feel the head of his dick get bigger right before he came. He jerked several times as he shot stream after stream of his cum inside my narrow asshole. He held me still until the aftershocks for both of us went away.
"Holy shit," I mumbled sometime later.
He laughed and slowly eased out of my well-used hole. I glanced over at a shelf when I felt his ejaculate coming out of my ass. The condom was still sitting where he left it before.
"Maybe we need to have a talk about unprotected sex," I said to him with a tired laugh.
He started howling in laughter.
"Perhaps we should, son. Perhaps we should."
COLLAPSE